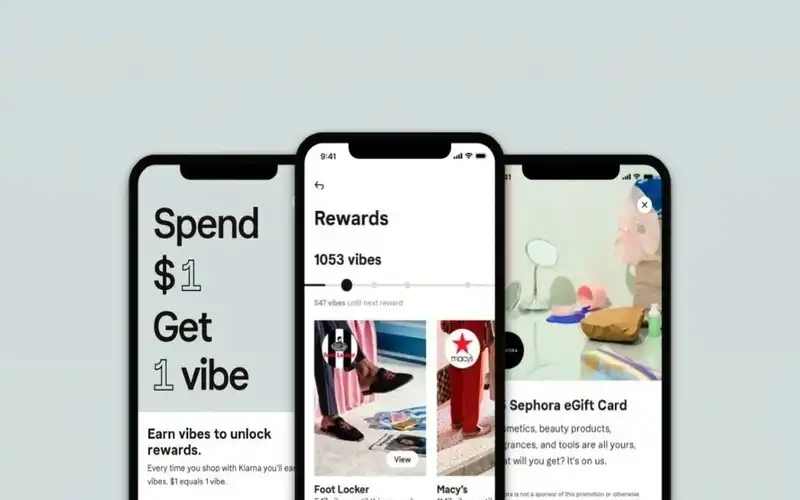 Image source: Klarna
One of Australia's newest buy now, pay later services Klarna has become the first of its kind to offer its own rewards program.
Launched in Australia in January 2020, Klarna today announced its personal customer loyalty program called 'Vibe', and in doing so become the first buy now, pay later (BNPL) platform to offer such a program.
According to Klarna, the no-fee program will first be rolled out in the US in June, before launching in other markets (such as Australia) within the next year.
The loyalty program will apply to all purchases made directly through the Klarna app regardless of the store, with members earning one 'Vibe' point per $1 spent.
These Vibe points (just called Vibes) can then be redeemed for rewards like gift cards, and Vibe members can also access exclusive online and offline sales that offer even more points.
Read: ACCC calls for more transparency around loyalty schemes.
Klarna CEO Sebastian Siemiatkowski said the move is the next phase in Klarna's efforts to deliver convenient shopping for even more value.
"We're extremely proud to be the first company in the buy now, pay later space to offer a personalised rewards program," Mr Siemiatkowski said.
"We're laser-focused on providing our nearly 8 million US consumers with the most convenient, seamless and enjoyable shopping experience possible, from end to end, and the Vibe program builds on our efforts and success.
"Vibe members have the freedom to shop everywhere and will enjoy access to unique, tailored benefits from hand-picked partners in addition to exclusive offers, deals and other rewards."
Need somewhere to store cash and earn interest? The table below features introductory savings accounts with some of the highest interest rates on the market.
Klarna said its loyalty program can be used without incurring the high fees and interest rates that are often attached to credit card rewards.
Credit card rewards programs recently came under fire for not providing enough value to justify their high cost.
Klarna developed its Vibe scheme following feedback from customers who said they found traditional credit card schemes too confusing.
To encourage and reward responsible spending habits, members will earn Vibes once their payments are completed and paid on time.
Read: 11 ways you can maximise your rewards points.
Zip partners with 86 400
In other BNPL news, one of Australia's biggest platforms Zip recently announced it was partnering with neobank 86 400, allowing the bank's customers to link and view all their Zip transactions and balances from within their mobile app.
"Millions of Australians are looking for new and better ways to pay and are adopting smarter technologies, such as 86 400 that help them better manage their banking," Zip Co CEO Larry Diamond said.
86 400 CEO Robert Bell meanwhile said the two had a shared purpose of giving Australians a better experience with their money.
"Both Zip and 86 400 invest heavily in technology, and we have a single-minded focus on doing what's right for the customer, every second of every day. Be it our Energy Switch service, or Zip's Shop Everywhere feature, these products enable Australians to get more out of their money," Mr Bell said.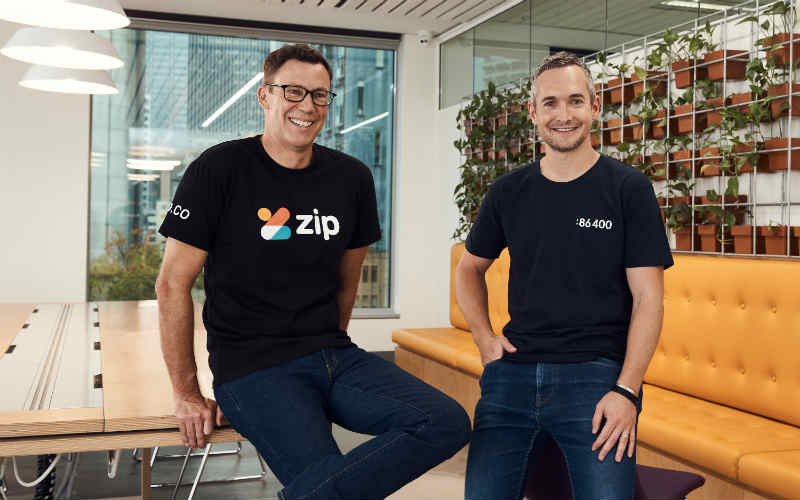 86 400 CEO Robert Bell (left) and Zip Co CEO Larry Diamond (right). Image source: 86 400, Zip
General BNPL awareness soars
The latest Roy Morgan Digital Payments Report for March 2020, released yesterday, shows BNPL awareness has soared to over 12.3 million Australians, suggesting 59% of the population is aware of the likes of Afterpay and Zip.
This is an increase of more than 22 percentage points in just 18 months.
Afterpay is the clear market leader, with a majority of 55.8% of Australians aware of it in the year to March 2020, while Zip was a distant second with over a third of Australians (35.2%) now aware.
According to Roy Morgan CEO Michele Levine, COVID-19 has caused digital payment services like Zip and Afterpay to gain prominence.
"Nearly three-fifths (59%) of Australians are aware of buy-now-pay-later services such as Afterpay and Zip and over one-in-ten (10.9%) now use these services," Ms Levine said.
"Digital payment services have gained prominence during the COVID-19 pandemic as personal hygiene practices, such as the way we handle money and pay for goods and services, have been put in the spotlight.
"Afterpay and Zip are the clear market leaders for buy-now-pay-later services but their early success in Australia has attracted newer rivals. Newer local rivals include OpenPay, Splitit Payments and Flexigroup which all offer buy-now-pay-later services and indicate the increasingly competitive nature of the market."
Recent data supports the view that the pandemic drove people from cash to digital payment services.
Figures by the Reserve Bank (RBA) yesterday show the number and value of cash-out transactions fell by a massive 48.81% and 51.17% month-to-month respectively, and over 12 months they both fell by around 61%.
Cash advances also fell drastically, while card-not-present transactions (aka purchases made without physically using the card, such as through mobile wallets like Apple Pay), were one of the few transaction types to see an increase.
During COVID-19, shares in Afterpay increased by over 500% since early March, while Zip Co's share price was up over 50% in just the past week alone.
"Australians aged 25-34 have been the quickest to take to the buy-now-pay-later services with around one-in-five in this age group using these new digital payment systems," Ms Levine said.
"However, there are key differences between the two market leaders as Zip's customer base skews slightly older and their second strongest age group is those aged 35-49 whereas for Afterpay it is the under 25 market."
Buy-now-pay-later payments awareness trends: 2018-2020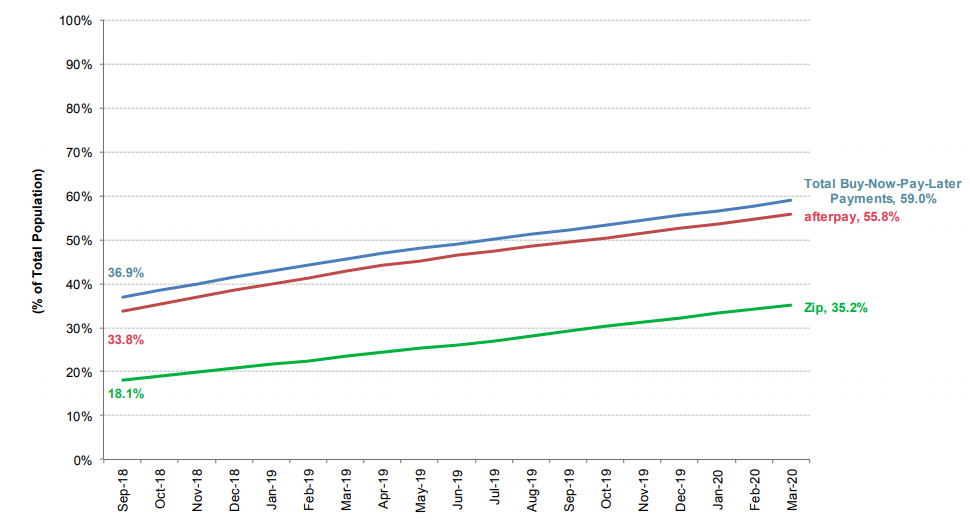 Source: Roy Morgan.
---
Latest Articles