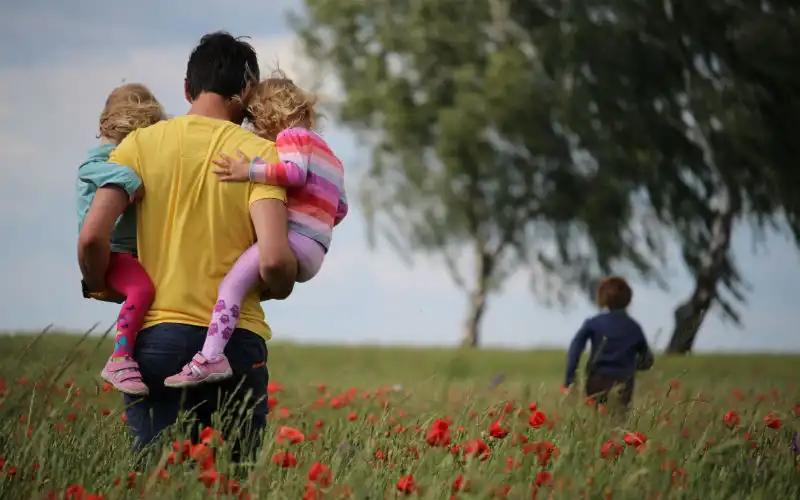 Photo by Juliane Liebermann on Unsplash
If you're looking for a good value home loan, you actually don't have to go to a bank. A non-bank lender could have just what you're after.
What's on this page:
With non-banks becoming more popular in the mortgage market, we look at:
Non-bank variable home loans
The tables below display a snapshot of some of the lowest-rate variable home loans available from non-bank lenders. These tables are for owner-occupiers only – see our comparison table on investment home loans to see what investment rates the larger non-banks offer.
Principal and interest
Interest-only
Non-bank fixed home loans
The tables below display a snapshot of some of the lowest-rate fixed-interest home loans available from non-bank lenders. These fixed rates have been narrowed down to three-year terms for consistency. See our comparison table on investment home loans to see what fixed investment rates the larger non-banks offer.
Principal and interest
Interest-only
There's no doubt that the big four banks take up a gigantic part of Australia's financial ecosystem, and this is definitely true for home loans. According to the latest data from each of the banks' end of financial year reports, their combined market share is 81.2% of Australia's $1.8 trillion mortgage market.
But there's a downward trend away from the big four. Their 2019 profits fell by nearly 8%, and that 81.2% market share is actually down nearly 100 basis points (or one whole percentage point) from 2018. Residential mortgage lending grew by 3.3% in 2019, but the big four only grew their loan books by less than 2%. So what's going on?
Well, lots of home loan customers are looking to alternative lenders, and non-bank lenders are one such alternative. According to a Reserve Bank report from April 2019, there has been a shift in lending for property towards non-ADI lenders in the past three years. Over this period, non-bank lending growth is about 15%, and now makes up about 5-6% of housing credit in total.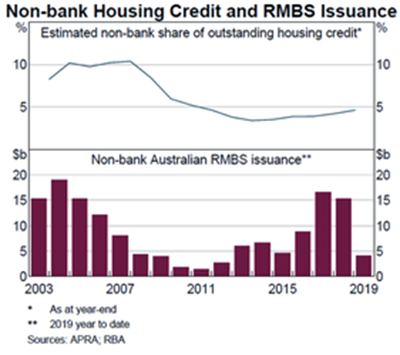 Source: APRA, RBA
What is a non-bank lender?
A non-bank lender is simply a lender that isn't a bank. To be a bank, a lender must be registered as an ADI (authorised deposit-taking institution) with APRA (The Australian Prudential Regulation Authority), which essentially allows institutions to accept customer deposits (term deposits and savings accounts). Non-bank lenders cannot accept customer deposits, which means they cannot accept consumer deposits (e.g. by offering savings accounts or term deposits) and use the funds to provide home loans, which is generally what banks do. Instead, non-banks typically self-raise the funds required to provide home loans by issuing bonds to institutions and investors.
Just because non-bank lenders do not have an ADI licence doesn't mean they aren't safe or trustworthy. Non-banks still must have an Australian Credit Licence (ACL) and have to comply with many of the same industry and legal codes as the banks, such as:
ASIC laws
The National Consumer Credit Protection Laws
Australian Consumer Law
Privacy Law etc.
What home loans do non-bank lenders offer?
With non-bank lenders growing their market share in recent years, they're offering some pretty competitive interest rates on their loans. Non-banks offer home loans for all sorts of different circumstances:
Can non-bank lenders go bust?
Like any bank or likewise, any business, there's always a possibility, albeit a very slim one, that non-banks can go bust. This was evident during the height of the Global Financial Crisis (GFC), when households and institutions were generally reluctant to invest money. This saw some non-bank lenders struggle for funding, most-notably RAMS, which was forced to sell off its distribution business to big four bank Westpac. But in October 2008 the Australian Government introduced its $20 billion mortgage-backed bond purchase programme (via the Australian Office of Financial Management – AOFM), effectively becoming a major investor in bonds issued by non-banks, thereby helping to keep the sector afloat. These bonds turned out to be profitable for the AOFM, generating over $2 billion in gross interest between 2008 and 2013.
The government took this action because it recognised the importance of non-bank lenders as a genuine alternative in the market. This endorsement still rings true today, with Treasurer Josh Frydenberg recently giving non-bank lender Athena a shout-out for passing on the recent RBA cash rate cuts in full.
While Australia's non-bank lending sector is not as big as it was before the GFC (when it comprised around 25% of the nation's home loans), it has made a comeback in recent years as more Australians switch to the lower-rate home loans offered by a number of non-banks. Former ACCC chair Graeme Samuels acknowledged this in a recent interview with ABC's 7:30 programme.
"They have gradually rebuilt and re-energised and, of course, they (borrowers) should borrow from them," Mr Samuels said.
"If you can get a lower rate from borrowing from a non-bank financial institution, why wouldn't you do it? Their money is as good as any of the big four banks."
Who do non-banks lend to?
Some people might think non-bank lenders target 'non-prime' customers – aka those with bad credit histories, but this isn't always true. While there are some non-banks who specialise in this consumer market segment- LaTrobe, for example, says 75% of its loans are dealt to these types of customers – others, such as Athena and Firstmac, specifically target 'prime' customers with clean credit histories and strong finances. Some of these lenders have strict requirements that borrowers must meet, such as having at least a 20% deposit on the property they're buying. It all depends on which one you go with.
See the list of Australia's most prominent non-bank lenders below.
Who are Australia's non-bank lenders?
There are plenty of non-bank lenders in Australia now, with more popping up all the time. There are some smaller ones out there that claim to offer some competitive rates such as Reduce, Tic:Toc, VirginMoney, Well Home Loans, Freedom Lend and more, but these lenders are quite small and don't have very large loan books.
Some of Australia's biggest non-bank lenders include the following:
Firstmac
Firstmac is one of the largest of Australia's non-bank lenders. Having been in business for 40 years, Firstmac has provided more than 100,000 home loans worth upwards of $12 billion. Firstmac only accepts 'prime' borrowers with clean credit histories, and in 2019 Firstmac posted a 14% growth in its loan portfolio.
loans.com.au
loans.com.au, a leading fintech and online-only lender based in Brisbane operating since 2011, is a part of the Firstmac Group. As an online-only lender, loans.com.au says it's able to offer competitive rates and fees to customers thanks to lower overhead costs than traditional bricks and mortar financial institutions. It offers home loans and car loans.
Resimac
Resimac is another of Australia and New Zealand's largest non-bank lenders, claiming to have a loan book in excess of $13 billion. Resimac has over 12,000 broking partners and offers loan solutions to a wide range of customers, like those with credit-impairments or the self-employed.
Resimac is also listed on the ASX, and boasted a 19% growth in its mortgage portfolio in 2019.
State Custodians
Resimac also owns State Custodians, another online lender that's been active for more than 30 years and has written more than $1 billion worth of home loans. State Custodians has been recognised as Non-Bank Lender of the Year by Money Magazine for five years in a row.
Pepper Money
Pepper Money claims to be Australia's number one alternative lender, with a mission to help people succeed. Since 2001, Pepper claims to have written loans to (home and car) over 200,000 Australians, many of whom are considered to be non-prime.
Pepper could be a good option for those struggling to put together a deposit or have some patches in their credit history. It also has offices in Spain, South Korea, Ireland and the UK.
Liberty
Liberty is another of Australia's major non-bank lenders, and is funded by some of the world's largest institutions such as Deutsche Bank and Credit Suisse, as well as NAB. Liberty has been operational since 1997, and has assets worth $12 billion from nearly 150,000 customers.
Liberty posted a 24% growth in assets in the year to June 2019.
How do non-bank lenders rates and fees compare to other lenders?
Non-bank lenders offer some good interest rates and low fees on certain products, but this isn't always the case. There are thousands of home loan products on the market, which means they can also have products with rates and fees on the lower end of the scale.
There's no definitive answer as to whether non-banks have better or worse products than other types of lenders – this will depend on the product itself and who's interested in it. Other types of lenders you'll see home loans from include:
When comparing home loans, make sure you do between loans from each of these different types of lenders, not just the one. Each of them offers some of the best and worst rates on the market between them so don't go making any assumptions – broadening your search will help you find the right product for you.
The table below displays a selection of variable-rate home loans on offer, featuring a low-rate pick from each of the following three categories: the big four banks, the top 10 customer-owned banks, and the larger non-banks.
Non-bank home loans – pros and cons
No lender is perfect – there are advantages and disadvantages of banking with a non-bank lender. Here's a summary of these pros and cons below.
Pros
They can have competitive rates and fees
They are widely considered to be safe and genuine competitors to banks
Online non-banks can offer more personalised services
Cons
Some non-bank lenders can be limited in the features they can offer with their home loans. For example, since they do not hold an ADI licence, they can't offer offset accounts in the traditional sense, although some offer products that may operate similarly to offset accounts, like loans.com.au's 'redraw offset facility'.
They may not have as many products available as larger lenders – non-banks can't offer deposits, for example, and may not have as many home loans to choose from
Many have a lack of physical branches if you prefer that type of banking
Savings.com.au's two cents
Don't immediately jump to the big banks to get a home loan. While they can have some viable products, other lenders do as well, and non-banks are no exception. Non-banks are becoming more and more popular with each passing year as customers taking comparing and switching home loans more seriously, so why not consider them next time you do some mortgage shopping? Consult a mortgage broker too if you need help.
---
Disclaimers
The entire market was not considered in selecting the above products. Rather, a cut-down portion of the market has been considered which includes retail products from at least the big four banks, the top 10 customer-owned institutions and Australia's larger non-banks:
The big four banks are: ANZ, CBA, NAB and Westpac
The top 10 customer-owned Institutions are the ten largest mutual banks, credit unions and building societies in Australia, ranked by assets under management in November 2019. They are (in descending order): Credit Union Australia, Newcastle Permanent, Heritage Bank, Peoples' Choice Credit Union, Teachers Mutual Bank, Greater Bank, IMB Bank, Beyond Bank, Bank Australia and P&N Bank.
The larger non-bank lenders are those who (in 2019) has more than $9 billion in Australian funded loans and advances. These groups are: Resimac, Pepper, Liberty and Firstmac.
Some providers' products may not be available in all states. To be considered, the product and rate must be clearly published on the product provider's web site.
In the interests of full disclosure, Savings.com.au and loans.com.au are part of the Firstmac Group. To read about how Savings.com.au manages potential conflicts of interest, along with how we get paid, please click through onto the web site links.
*The Comparison rate is based on a $150,000 loan over 25 years. Warning: this comparison rate is true only for this example and may not include all fees and charges. Different terms, fees or other loan amounts might result in a different comparison rate.
Latest Articles