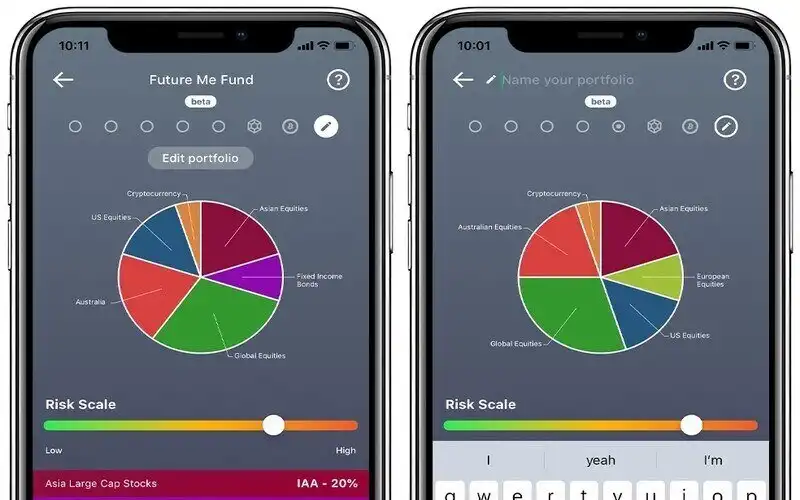 Micro-investing app Raiz is offering users the opportunity to customise their portfolios.
Raiz has launched a new portfolio option which gives users more choice in what they're invested in, allowing them to select from 14 different ETFs, as well as Bitcoin.
This custom portfolio offers an alternative to the seven existing Raiz portfolios where the investment assets are pre-selected:
Conservative

Moderately Conservative

Moderate

Moderately Aggressive

Aggressive

Emerald (a portfolio made up of 'socially responsible' ETFs)

Sapphire (an aggressive portfolio which includes exposure to Bitcoin)
Need somewhere to store cash and earn interest? The table below features savings accounts with some of the highest interest rates on the market.
Lender

---

4

0

0

0

$product[$field["value"]]

$product[$field["value"]]

$product[$field["value"]]

More details

FEATURED

Online Saver (Amounts < $499999)

4

0

0

0

$product[$field["value"]]

$product[$field["value"]]

$product[$field["value"]]

More details

High Interest Savings Account (< $250k)

4

0

0

1

$product[$field["value"]]

$product[$field["value"]]

$product[$field["value"]]

More details

0

50

0

$product[$field["value"]]

$product[$field["value"]]

$product[$field["value"]]

More details

0

0

0

$product[$field["value"]]

$product[$field["value"]]

$product[$field["value"]]

More details
Rates based on a savings balance of $10,000. Sorted by total interest rates. Refer to providers' websites for bonus rate conditions and for any applicable fees and charges. Rates correct as of June 27, 2022. View disclaimer.
The 14 ETFs that custom portfolio users can choose from are:
Betashares Aust High Int. Cash - AAA,AU
SPDR S+P 200 – STW.AU
IAA – iShares S+P Asia 50
IEU – iShares S+P Europe 350
IAF – iShares Composite Bond
RCB – Russell Aust Select Corp Bond
IVV – iShare Core S+P 500
RARI – Russell Australian Responsible Investment
ETHI – Global Sustainability Leaders ETF
NDQ – BetaShares NASDAQ 100
FAIR – BetaShares Australian Sustainability Leaders
IOO – iShares Global 100
VGE – Vanguard FTSE Emerging Markets Shares
IXJ – iShares Global Healthcare
According to Raiz, this gives more customer choice: users can build portfolios that are much more tech or internationally focused, for example, or can choose to include sustainable options in their ETF.
Brendan Malone, CEO of Raiz Invest, said this new portfolio was requested by customers in their feedback.
"Raiz wants to be with our customers on their financial journey and we see the custom portfolio option as providing this additional literacy and assisting them on their path," Mr Malone told Savings.com.au.
"When a customer is ready to take more control of their finances, we want to be there for them and continue to provide options that can match their level of interest and sophistication."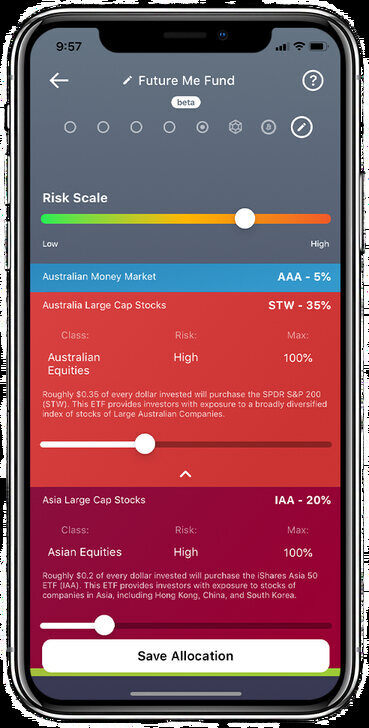 Image: Supplied by Raiz.
The app also suggests it could be cheaper to invest through Raiz than investing in individual ETFs through a broker.
"If you were to create a portfolio of 14 ETFs by purchasing them through a broker, it could cost hundreds of dollars in brokerage fees depending on who you use. Also, if you switched the ETFs you hold or topped up your holdings, these costs would increase," it said.
"With Raiz, users can deposit, withdraw, and change as often as they like, whenever they like, and the Custom Portfolio fee is just $4.50 per month for accounts with balances less than $20,000, or 0.275% p.a. for balances exceeding $20,000."
For extra flexibility, Raiz also lets users name their portfolio - this won't affect the returns at all, but it could make investing easier by naming it after an investment goal, for example.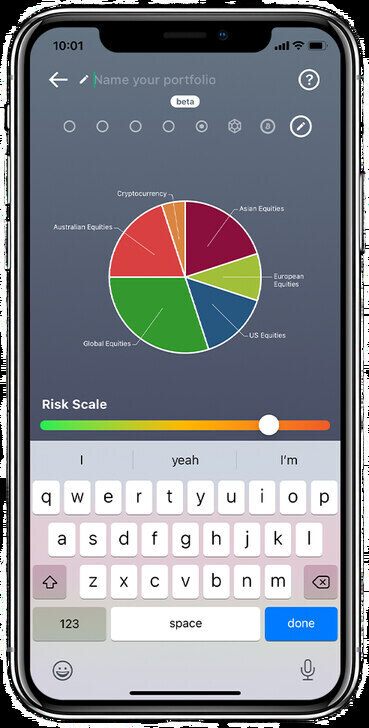 You could name your portfolio 'flibbly-wibbly' if you really wanted to. Image: Supplied by Raiz.
See also: 10 popular mobile apps for budgeting and saving
Investing comes with its risks
Raiz Managing Director George Lucas had previously told Savings.com.au that micro-investing/ETF apps like Raiz could be a worthwhile alternative to cash deposits and savings accounts, due to the record low, below-inflation interest rates these products now offer.
"It (Raiz) provides people access to a range of investment portfolios designed to suit differing investors and their goals," Mr Lucas said.
"Inflation may be low, but interest rates are in many cases even lower. Taking more active control of their finances will ensure more people are proactive in doing what is best for them, and not the institutions who hold their cash."
Read: How to start investing for millennials
But investing is a different kettle of fish from saving, and even though ETFs carry a lower level or risk than other investment options (like buying shares individually), they still aren't risk free.
Choosing an asset allocation in a portfolio, rather than selecting a ready-made one, can carry some extra risks.
"We understand customised portfolios will not be suitable for everyone, so we encourage our customers to make sure they have read and understood our PDS, to be aware of the additional risks," Mr Malone said.
"Raiz is suitable for Australians who want to use the automated saving and investing features to learn about investing, build emergency funds or even save for something important like a house or car.
"With the addition of custom portfolios, we can further educate and help our customers understand market movements and volatility."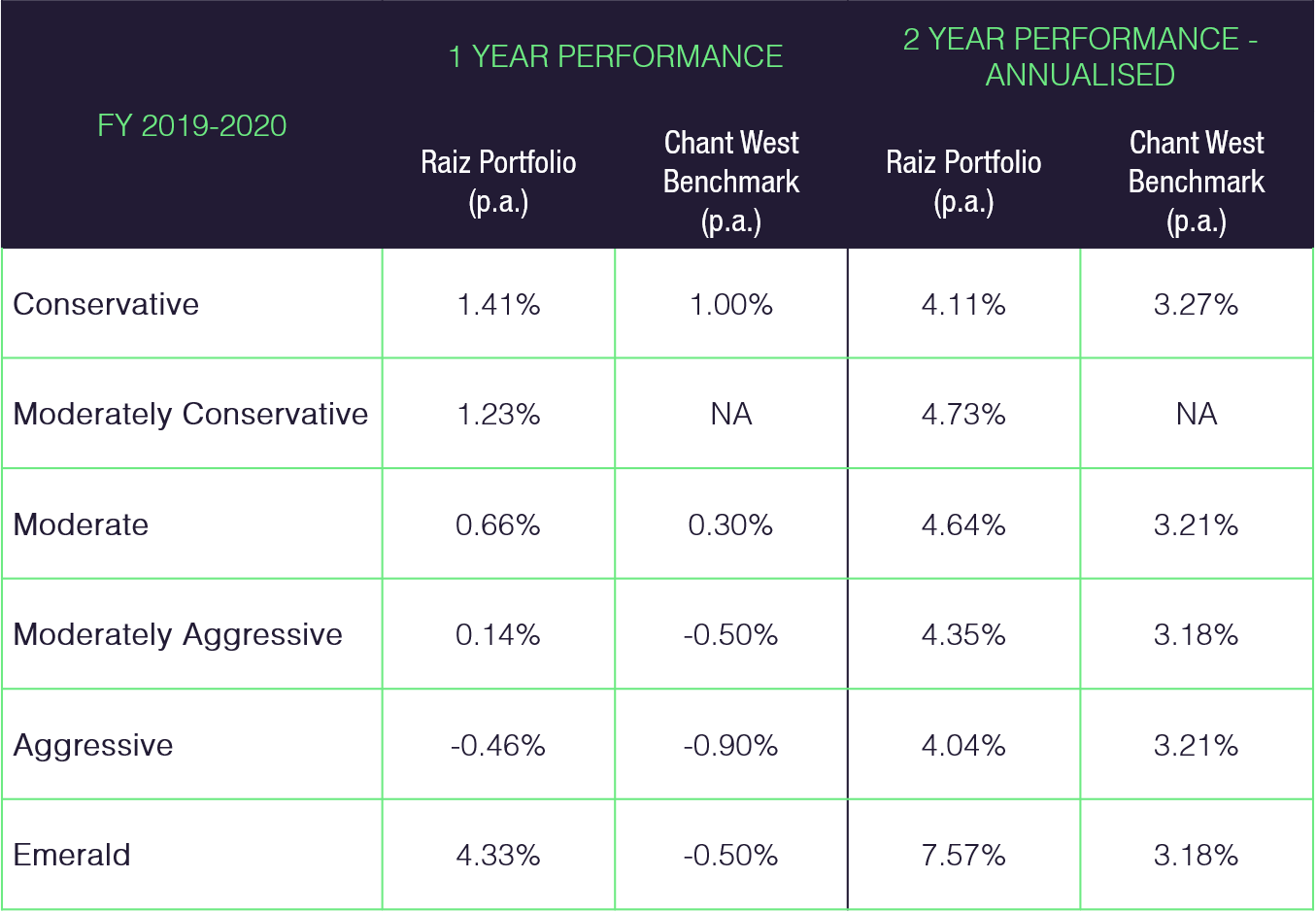 The returns of Raiz's different portfolios. Past performance is not a guarantee of future performance.
---
Image source: Raiz