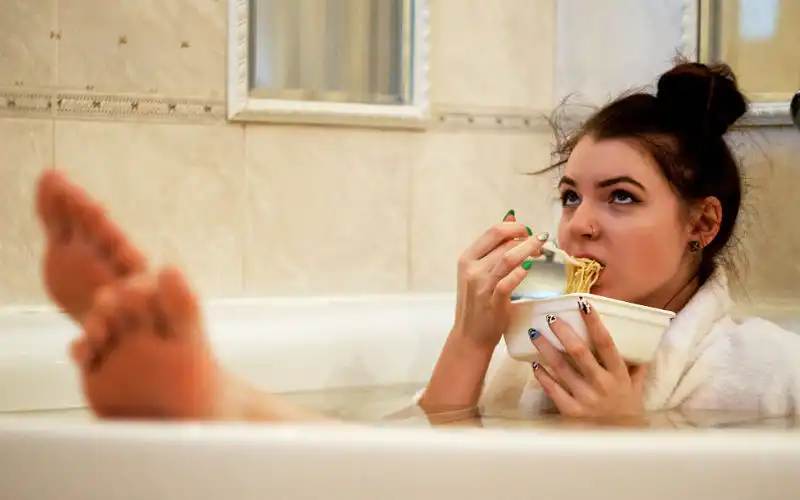 Photo by Artem Labunsky on Unsplash
Moving out of home for the first time? Here's how much it's going to cost.
On this page:
Flying the coop can be scary but exciting - no more parents telling you what time to go to bed, you can invite anyone you like over, eat whatever you want and have parties every weekend.
But before you fly out of your parent's place like a bat out of hell, you'll need to start saving up and budgeting for all the expenses that come with living out of home - cos it ain't cheap.
If you're looking for a savings account to start popping money into, here's a few we've found with some of the highest interest rates on the market:
Lender

---

0

0

0

$product[$field["value"]]

$product[$field["value"]]

$product[$field["value"]]

More details

FEATURED

Save Account

Take money out at any time without affecting your bonus rate.
Open up to 10 Save accounts and get bonus interest on all of them, including shared Save accounts.
Get bonus interest on a combined balance of up to $250K across all your Save accounts.

Save Account

Take money out at any time without affecting your bonus rate.
Open up to 10 Save accounts and get bonus interest on all of them, including shared Save accounts.
Get bonus interest on a combined balance of up to $250K across all your Save accounts.

4

0

0

0

$product[$field["value"]]

$product[$field["value"]]

$product[$field["value"]]

More details

High Interest Savings Account (< $250k)

4

0

0

1

$product[$field["value"]]

$product[$field["value"]]

$product[$field["value"]]

More details

0

50

0

$product[$field["value"]]

$product[$field["value"]]

$product[$field["value"]]

More details

0

0

0

$product[$field["value"]]

$product[$field["value"]]

$product[$field["value"]]

More details
Rates based on a savings balance of $10,000. Sorted by total interest rates. Refer to providers' websites for bonus rate conditions and for any applicable fees and charges. Rates correct as of August 15, 2022. View disclaimer.
How much money should you have saved before moving out?
Moving out of home for the very first time can be expensive and there are a lot of things you'll need to pay for upfront, like the rental bond, removalists, and of course enough money to buy furniture and whitegoods - not to mention all the regular ongoing expenses like rent, groceries and utility bills that you haven't had to worry about until now (thanks mum and dad!).
There's no right or wrong answer to this but generally, it's best to have at least three months worth of living expenses saved up so you have enough money for all the above and then some to cover you in an emergency, like if an unexpected medical bill pops up or your car needs repairs.
Your first month out of home will probably be the most expensive because there are a lot of big-ticket items to pay for. This is why it's important to have a good amount of savings stashed away already. Open up a savings account for your 'moving out savings' and aim to save enough for the rental bond (usually four weeks of rent upfront) as well as a few months of rent.
Costs of moving out
Moving out is expensive and there are many upfront and ongoing expenses you need to factor in, including:
| | |
| --- | --- |
| Rent | Rental bond |
| Utilities (gas, water, electricity) | Removalists |
| Internet bills | Connection fees for electricity, internet |
| Groceries | Furniture |
| Transport | Whitegoods |
Ongoing costs of moving out
1. Rent
Rent will easily be your biggest ongoing expense and ideally, you should be paying no more than 30% of your before-tax pay on this. How much your weekly rent costs will depend on how close to the city you live, what city you're living in (Sydney is notoriously expensive) and what type of property you're renting.
See also: How much to spend on rent in Australia
2. Utilities
Utilities generally include electricity, gas and water. In many rentals, you won't need to pay for water as this is a cost usually incurred by the landlord. Utility bills can be charged quarterly or monthly.
Cost: $100 per month or less, depending on your usage
3. Internet bills
According to Budget Direct, the average internet bill is around $70 month
Cost: $70 per month for internet
4. Groceries
Remember that groceries don't just include food. It also includes other essential household items like cleaning products and toiletries. Your first grocery shop after moving out of home will be your most expensive one because you're buying everything from scratch (think all your cleaning products, pantry staples, essentials like toilet paper, and then all your regular food).
Cost: $100-$150 weekly, or less if you're frugal
See also: How to save money on groceries
5. Transport
How much you spend on transport will depend on how much you use your car (if you have one) and how far you live from your workplace, the supermarket and anywhere else you regularly need to commute to. According to the Australasian Railway Association (ARA), a single person who lives 5km from the city and owns a car but commutes to work by public transport every day spends about $2,572 on car running costs a year.
Upfront costs of moving out
1. Rental bond
The rental bond is normally four to six weeks of rent that you have to pay upfront, but this is refunded once your lease ends (provided you have left the rental property in good condition).
Cost: Four-six weeks rent
2. Removalists
For a single person moving, most removalists will charge around $100 an hour. It's best to shop around and get quotes from multiple removalists as some will charge more depending on how easy access to the property is (if there's a lift or stairs, how far parking is from the lift/stairs, etc).
3. Connection fees
Depending on your provider, internet connection fees can range between $50 and $130 while electricity connection fees are usually under $30.
4. Furniture and whitegoods
Buying new furniture and whitegoods can get very expensive very quickly especially if you're buying brand new. Get the most essential stuff you can't live without first, like the bed, washing machine and fridge. You'll also need all your kitchen supplies like a kettle, toaster, frypans and pots, cutlery, plates and cups, containers, etc.
Cost: A few hundred to a few thousand
Moving out budget
Before you move out of home you should draw up a budget first that outlines your income and expenses, so you know how much you can afford to spend on rent.
The first thing you need to do is write down your monthly (or fortnightly, depending on how often you get paid) take-home pay. Then write down any expenses you currently have, like your mobile phone bill, gym membership, car loan repayments, etc. From this, you'll be able to see how much money is left over to get a better idea of what you can afford to spend on rent and other bills like electricity and the internet. Don't forget that it's a good idea to spend no more than 30% of your before-tax pay on rent. You should also aim to save at least between 10-20% of your income every time you get paid.
Let's use 25-year-old Phoebe as an example. Phoebe is moving out of home for the first time and she really wants to live by herself in an apartment close to the city where she works. She earns $1,000 a week in her job as a social media manager and wants to spend no more than $300 a week on rent which is exactly 30% of her weekly take-home (after-tax) pay.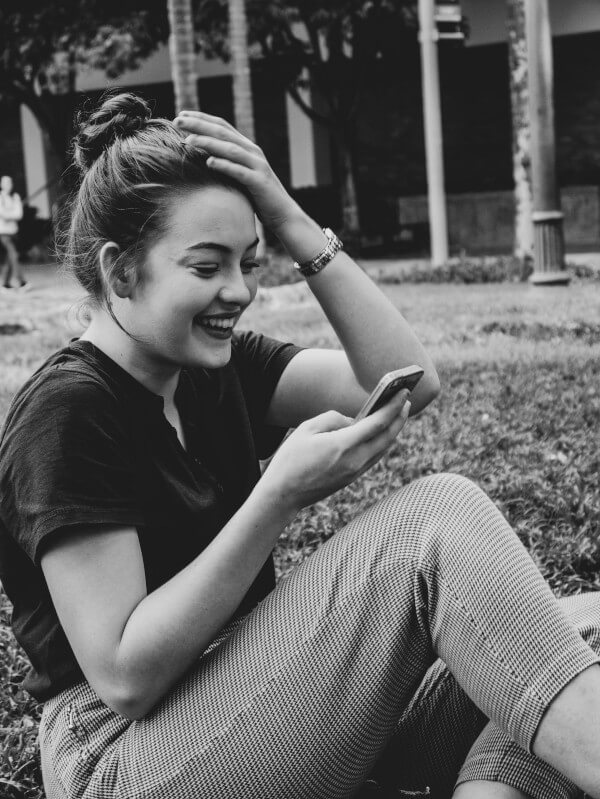 But when she starts looking at apartments within a 5km radius of the city she can't find much in that price range that isn't a complete shithole. She doesn't want to move any further out of the city so she decides to go the share house route instead. She finds a brand new 2 bed/2 bath apartment in a trendy inner suburb shared with one other girl, and Phoebe's portion of the rent is $250 weekly. That's only 25% of her weekly take-home pay, win! This will leave her with $750 leftover every week.
From that, she estimates she'll spend about $100 a week on groceries, will transfer $150 into her bills account every week to cover the electricity, internet and her phone bill for the month. She also has an F45 membership that costs $55 weekly. She aims to save 30% of her weekly pay ($300) into her savings which will leave her with $145 remaining as 'fun money'. She's a bit of a tight-arse and doesn't always spend all her 'fun money' so she thinks she'll end up transferring whatever is left into her savings account at the end of every week.
Doesn't sound too hard right? We've got a massive guide on how to budget here that breaks down all the steps in more detail for you.
How to save money on the costs of moving out:
Share with flatmates/partner
Sharing a place with flatmates or your partner can easily save you hundreds of dollars in rent and get you into fancy suburbs that you otherwise may not be able to afford on your own. You can find share houses on websites like Flatmates.com.au, Flatmatefinders.com.au, in Facebook groups or ask your friends if they're looking for anyone to move in with them.
Moving into a share house can also substantially reduce the amount of money you spend on utilities like electricity and internet because the bill is split among everyone who lives in the house. If you're living solo though, there are still plenty of ways you can save money on your energy bill by being more energy-efficient (like not using the dryer for everything when there's a perfectly good washing line and sunshine outside).
If you're moving in with your partner or into a share house, lay the ground rules early. Organise how the bills will be split and whose name the electricity/internet account will be in. Don't be THAT housemate who is always late with payments. Always make sure the bills are paid on time because not paying on time could affect your credit history (or the credit history of the housemate whose name the account is in) and your rental history.
There are plenty of budgeting apps like Splitwise which make it easy to split bills among your housemates and keep track of who owes what.
Buy second-hand furniture and whitegoods
When you're moving out for the first time, there's no need to rush out and immediately buy all brand new furniture. Start out with the most essential items first, like your bed (sleeping on a blowup mattress on the floor gets old very quickly), the fridge and the washing machine. If you can take the bed you sleep in at your parent's place, do it. Try and buy as much of your furniture and whitegoods secondhand from websites like Gumtree, Facebook Marketplace, or even curbside collection if it's in good nick - except for the mattress. You should probably buy a new one because… bodily fluids.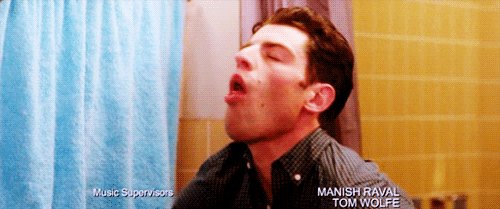 Once you've settled in you can then start furnishing the place as you go. It's often better to furnish as you go rather than buying everything all at once because you may find that some of the things you thought you wanted (like a dining table) either won't fit/suit the space or don't suit the way you live (like you prefer eating dinner on the couch or at the bench).
You'd be surprised at how much money you can save by buying all your furniture and whitegoods secondhand. You can often find the same stuff that's in the stores for a fraction of the price.
Not convinced? This secondhand Haier Fridge is only $60 - a quick search on Google found that a brand new Haier fridge of the same make and model retails for around $400.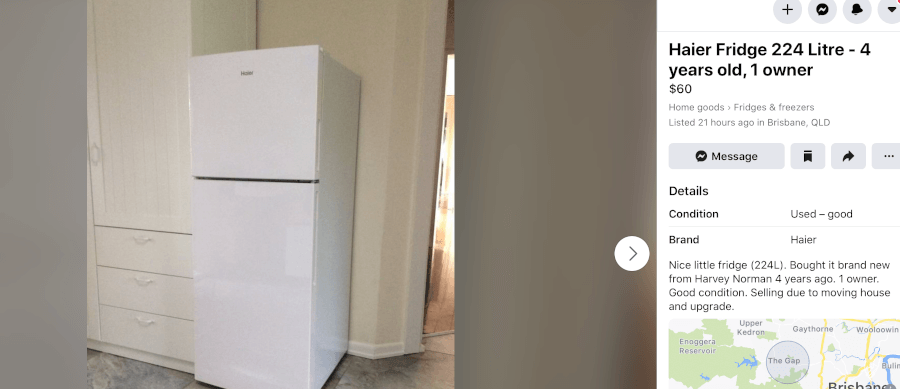 Or take this IKEA bed for example. On Facebook marketplace it's selling for $300 and is in near new condition, while IKEA are still selling the same bed for $659.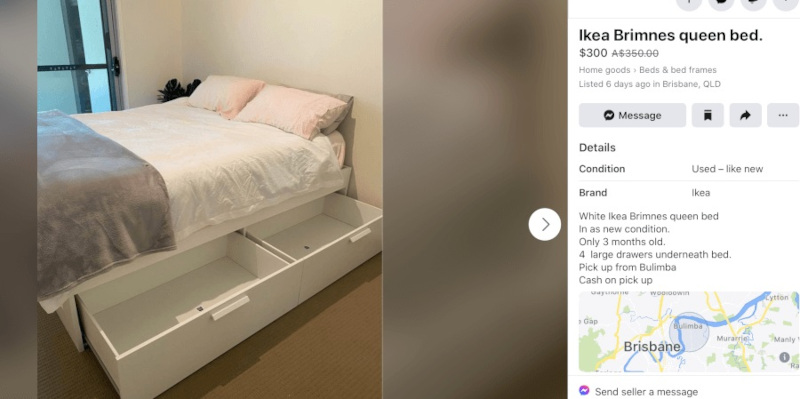 If you're moving into a sharehouse, it's likely that most of the furniture and whitegoods will already be there and all you'll have to bring is your own bedroom furniture.
Some apartments also come fully furnished already (like the one I currently live in), which will save you heaps of money upfront. Of course, if you ever move out, you'll have to buy your own stuff then.
Ask for help moving out
If you don't have much heavy furniture to move, you could hire a ute for the day and move it yourself or ask a mate with a ute to help you shift your stuff and reward them with a case of beers.
Save money on groceries
You can easily reduce your weekly grocery spend by shopping at stores like Aldi or buying your fresh fruit and veggies from your local markets. Before heading out, always make a list of what you need and stick to it. You can also use apps to save money on your weekly shop.
Read more: Twenty ways to save money on groceries
Savings.com.au's two cents
Moving out of home for the very first time is incredibly exciting, but before you get swept up in all the excitement don't forget that there are a lot of expenses you'll need to fork out for. Start budgeting and saving for these now so that you don't get caught out with a massive bill you can't afford, or find yourself being unable to afford a fridge and having to make do with an esky.
That sweet taste of freedom that comes with living out of home for the first time also means you now have loads more financial responsibility, so make sure you swing by our money saving tips for more guides on saving and managing your money.
---
Latest Articles