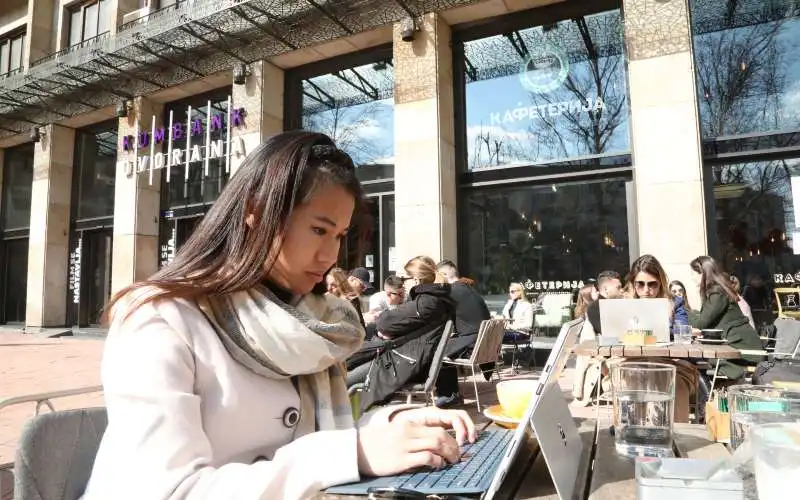 Full international travel may be off the cards until at least mid-2022 but that doesn't mean you can't support the local tourism industry and get paid while doing it.
With internal borders open (pending the next COVID outbreak of course), stir-crazy Aussies itching to travel can explore the country and earn an income at the same time - all you need is a laptop and an internet connection.
"No longer are workers tied to their office desks, and as such many are seeking sea changes and taking advantage of digital platforms like Fiverr that allow you to earn an income while fulfilling other lifestyle aspirations such as travel (even if it is just domestically for now) or starting a family," Peggy de Lange, VP of International Expansion at freelancing platform Fiverr told Savings.com.au.
"We have seen skilled professional freelancers from across the world joining Fiverr and creating new gigs in record numbers throughout the past year; indicating a rise in people's desire to explore new income streams."
---
Need somewhere to store cash and earn interest? The table below features savings accounts with some of the highest interest rates on the market.
Lender

---

4

0

0

0

$product[$field["value"]]

$product[$field["value"]]

$product[$field["value"]]

More details

FEATURED

Savings Account (Amounts < $24k)

4

0

0

0

$product[$field["value"]]

$product[$field["value"]]

$product[$field["value"]]

More details

High Interest Savings Account (< $250k)

4

0

0

1

$product[$field["value"]]

$product[$field["value"]]

$product[$field["value"]]

More details

0

50

0

$product[$field["value"]]

$product[$field["value"]]

$product[$field["value"]]

More details

0

0

0

$product[$field["value"]]

$product[$field["value"]]

$product[$field["value"]]

More details
Rates based on a savings balance of $10,000. Sorted by total interest rates. Refer to providers' websites for bonus rate conditions and for any applicable fees and charges. Rates correct as of May 29, 2022. View disclaimer.
---
In fact, the number of active buyers (those looking to hire freelancers) on the platform grew from 2.5 million in March 2020 to over 3.8 million in March 2021 - a 56% increase year-on-year.
For the uninitiated, Fiverr is a platform that connects businesses with freelancers from all over the world offering digital services in over 300 categories including writing, design, and digital marketing.
See also: 8 ways to make extra cash online during COVID-19
Ms de Lange said Australians who want to work while travelling the country can utilise the site to earn money without being tied to a location.
"The nature of Fiverr being a digital platform that can be accessed from your mobile or computer device means the job opportunities can be leveraged by anyone, anytime, anyplace," she said.
"While the roles require specific skills and talents whether that be graphic design, copywriting, music, fashion design, translation or any of the other 300+ categories, the nature of the work doesn't tie professionals to a certain city or office.
"This means that those seeking a digitally nomadic lifestyle are able to evaluate the skills they possess, and take their services online no matter where they are in the world."
Video editor's side hustle allows her to move overseas during COVID
Liz Duong is one of those 'digital nomads' who quit her full time corporate job and put her video editing skills to use on the platform after moving to Europe in the middle of COVID.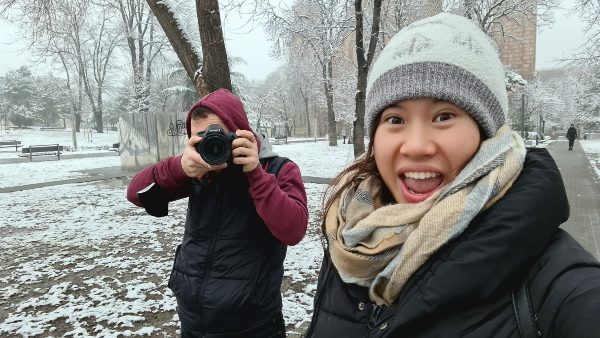 Pictured: Liz Duong. Image supplied
"I usually travel to Europe about once a year and on my last trip in 2019, I accidentally found love not only with a boy but also with a language," she told Savings.com.au.
"When I returned to Australia, I continued working my full time corporate job in Australia with the dream to move to Europe after three years. However, my journey was accelerated when I realised I could earn a steady income from anywhere in the world with the help of Fiverr.
"As a result, I fast-tracked my dream and was able to leave Australia and move to Belgrade, Serbia in August 2020 right in the middle of the pandemic and live the best years of my life in a location that inspires me, as my own boss and working a job that I love!"
She told Savings.com.au she earned just over $1,000 AUD in one month making social media videos for influencers and businesses.
"Having Fiverr helped me to have some back up funds and work whilst I found my feet in a new country, which drastically reduced the stress and urgency of finding a new job and gave me the flexibility to enjoy my new life," she said.
Sydney-sider rakes in up to $31k a month on Fiverr
Another digital nomad who's made an impressive income from the platform is Sydney man Lucas Vitale.
Mr Vitale was studying full-time at university when he saw an opportunity to make good money using his SEO skills, and he's never looked back.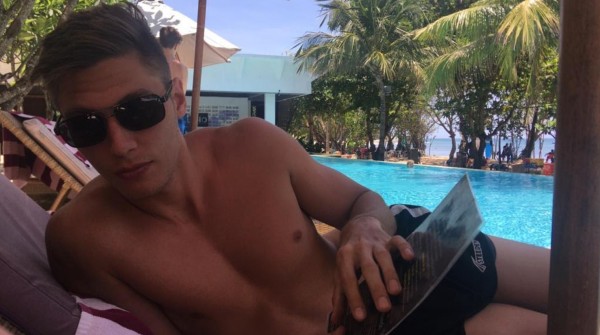 Pictured: Lucas Vitale. Image supplied.
"I'm able to generate a steady, consistent income offering my services, which is great. On average, I make between $20,000 and $31,000 in any given month," he said.
"My success on Fiverr came quite quickly. In my first month as a seller on the platform, I made $5,000, followed by $16,000 in my second month.
"From the third month onwards, I was making over $20,000 a month."
He says work really picked up during COVID.
"It felt like the Fiverr platform was swamped with even more customers during COVID, likely due to the shift of everyone moving from offline to online, and ensuring optimisation across online channels, which is obviously a huge area for me given my niche."
While international travel is obviously out of the equation for now, Lucas says the nature of the platform permits a certain kind of freedom that traditional working arrangements don't.
"If I were allowed to travel, I could go anywhere in the world tomorrow and continue everything I do with just a laptop- this is the beauty of Fiverr, you're not tied to a particular location."
I'm interested in freelancing while travelling, what do I need to know?
Managing work and adventure can be a tricky balance, but Ms de Lange says it's possible to earn a "significant income" on Fiverr while still fitting in all the fun stuff.
"Establishing a workflow and getting organised before orders start coming in is essential," she said.
"Take time to figure out what days/times each week you'll dedicate to work, and ensure you set up a productive workspace and have all the materials you need before you get started.
"Once you have your set up, it's important to outline a delivery time that will not only keep your clients happy, but be feasible for you too.
"A timely delivery is extremely important for your progress and success as a seller on Fiverr. If you're not going to make a deadline, be proactive and let your client know ahead of time so a solution can be arranged."
She says it's important to respond to clients quickly even if you're on the road.
"While you may not always have your phone handy while travelling, you can use Fiverr's quick response feature and incorporate pre-written templates or create your own to help you reply faster - even when you're busy.
"It's also a good idea to download the Fiverr app to help you keep up with orders on the go if you won't have access to a laptop.
"Communication instills confidence, so ensure you're not leaving anything to chance and follow up on questions/ concerns, letting clients know you're there for them and are equipped to deliver everything they need."
Top tips for freelancers
Peggy de Lange: 'Position yourself as the best candidate for the job'
"Starting with your profile, a great profile inspires confidence and enthusiasm in buyers and is an important part of building your Fiverr business," Ms de Lange said.
"It's vital to craft your profile in a way that displays your skill set and demonstrates why you are the best choice for that category. If you're a designer then you should have a visually intriguing profile; if you're a writer then your description should be engaging and well written, and so on.
"It also helps to have a profile picture that clearly shows your face, so buyers can see they're working with a real human."
Ms de Lange says optimising your offering is another way to help sales steadily improve and boost repeat orders.
"Choosing the right title is a crucial and an oft searching for.
"Boost your gig by adding video content or links to your working profiles to attract attention in a captivating way."
Don't forget to take advantage of all the free resources Fiverr has to offer, like the Help and Education Center, blog and Fiverr forum so you can get acquainted with the Fiverr community and learn how to improve your business.
"It can also be useful to audit other successful sellers, see how they've set themselves up, how they promote their services and what is driving their business growth," Ms de Lange said.
"There are great learnings out of this that can help new sellers boost their earnings."
Liz Duong: 'Find your niche, share your personality and take care of your customers'
"My tip would be to find a few different niches and really stylise each advert to a very specific target market. It is hard to stand out in the crowd," Ms Duong said.
"I, for example, did not advertise myself as a video editor. There are thousands of video editors on Fiverr, choose a niche... but also a niche that you love to serve.
"I love making fashion haul, makeup tutorials and quite girly videos, because that's also the type of videos that I like to watch (so basic I know), but I know I can serve this target market well because I am a part of this world and therefore speak their language and can offer my own ideas and inspirations to my customers.
"Choose a definitive niche that you are able to serve well and you will be successful."
The video editor says it's important to take care of your customers to keep them coming back if you want to earn a steady income stream from the platform.
"I advertise my services as a 'long-term' video editor. I find this benefits both me and my clients as once you develop a relationship with someone, you know exactly what their brand identity is, their style and their specific preferences, also developing a routine (with some clients).
"As a result, you're able to consistently dish out perfect products for them without 10 different revisions. Win-win!"
Ms Duong says it's also important to demonstrate your personality and authenticity when working with potential clients.
"Sometimes when you're hiring someone online to do work for you, people may treat you like a machine, it's hard to build a long, trusting relationship with your customers if they think that you're a machine.
"Be yourself, use emojis, compliment their work, show your passion and in turn, they will reward you by treating you like a real human being and also partner in their business."
Lucas Vitale: 'Focus on quality over quantity'
"Rather than the number of jobs or actions to be completed, focus on completing each to the very best of your ability and providing high quality services," Mr Vitale said.
"At the end of the day, high quality work is going to help you earn that repeat business - and this is what drives a steady income stream."
He says his number one tip for anyone getting started would be to focus on the customers and not the money.
"Treat your customers really well and deliver amazing work, it allows you to build profitable business relationships that will serve you for years to come."
---
Cover image supplied.