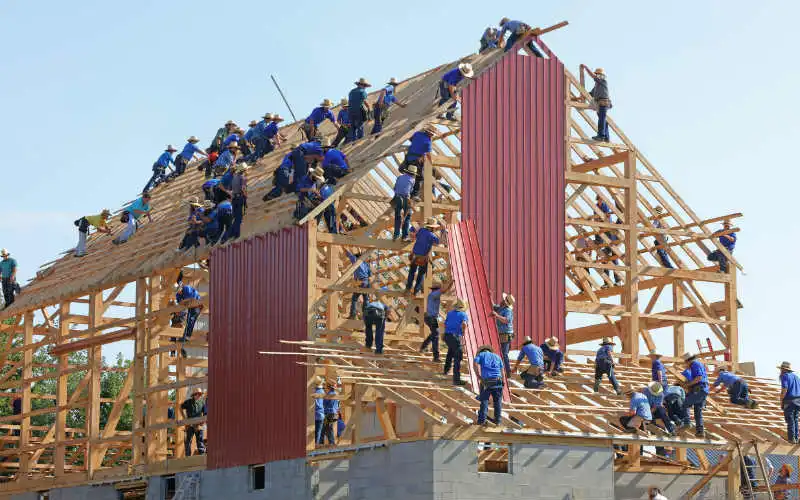 Photo by Randy Fath on Unsplash
Building an entirely new home is confusing enough without having to think about how you're going to pay for it.
Construction loan comparison
Looking to compare low-rate, variable home loans for your new build? Below are a handful of low-rate loans in the market.
Provider
Ad rate
p.a.
Comp rate*
p.a.
Monthly
repayments
Base criteria of: a $400,000 loan amount, variable construction home loans with an LVR (loan-to-value) ratio of at least 80%. If products listed have an LVR <80%, they will be clearly identified in the product name along with the specific LVR. Introductory rate products were not considered for selection. Monthly repayments were calculated based on the selected products' advertised rates, applied to a $400,000 loan with a 30-year loan term. Rates correct as at 06 August 2020. View disclaimer.
Guides & resources:
Unfortunately, you do need to worry about how you're going to pay for it, and constructing a new home isn't as simple as just handing a bank a suitcase full of cash. Funding a home construction is a different beast, since you also have to pay to build all the different parts that make up a house.
This is why you'll probably need to utilise a construction loan to get started.
What is a construction loan?
A construction loan is a specific type of home loan designed to assist the funding of a new home's construction. When it comes to the standard home loan, they usually only apply to existing properties. Getting a loan for a home that doesn't exist yet is a bit trickier, so a construction loan works in conjunction with the building process and helps you pay for it.
Are construction loan rates higher?
Although not always the case, building loans tend to have higher interest rates than standard home loans on average. These interest rates might be higher than a standard home loan since it's harder for a lender to value a home that doesn't yet exist, which adds an element of risk. To compensate for this risk, lenders tend to up the interest rate.
In addition to the higher interest rate, building loans can also have higher fees too. A common one is a valuation fee, which can be more costly with a building loan since the lender has to do a valuation of your property after each stage of the construction process (more on this below). There can also be higher administration fees and upfront fees.
How does a construction mortgage work?
Construction loans, also known as building loans, function very differently to a standard home loan. For one, they typically charge interest-only repayments for the duration of the build, which is initially set at 12 months in most cases. This is to keep your repayments to a minimum during construction, before reverting to a principal and interest loan at the end, known as the 'end loan'.
An even bigger difference between construction loans and home loans is how your repayments are calculated. A standard home loan charges you interest on the full loan amount, but a home construction loan divides your loan into stages based on what part of the building process is occuring, a method known as progressive draw-down or progress payments.
Construction loan payment process: loan drawdown explained
Varying from lender to lender, a loan drawdown process usually consists of five to six stages, which might look something like this:
| Stage | Includes |
| --- | --- |
| Deposit | Paying the builder to begin construction |
| Base | Concrete slab complete or footings |
| Frame | House frame complete and approve |
| Lockup | Windows/doors, roofing, brickwork, insulation |
| Fixing | Plaster, kitchen cupboards, appliances, bathroom, toilet, laundry fittings/tiling etc. |
| Completion | Fencing, site clean-up, final payment to builder |
This is just one example, but you get the idea. If one of these stages (such as the base) costs $100,000, then for the duration of that stage you'll only be charged interest on that $100,000. If you then draw down an extra $100,000 to pay the builder for the next stage (the frame), your repayments will now be based on the interest costs of $200,000. So essentially, funds from your approved loan amount are only charged interest as they are paid to the builder (drawn down).
This can save you a significant amount of money in interest during the building period.
How do construction loans work for renovations?
Normally when doing smaller cosmetic renovations you can use other strategies like accessing the existing equity in your home, using extra repayments you've made via a redraw facility or just by using cash or other financial products like personal loans. But for larger structural renovations (like adding a garage or a new deck), you might need to use a construction loan. If the renovation project is big enough (e.g. over $200,000), you might even be required to refinance your entire home loan to a construction loan.
Construction loan pros and cons
Before you hoover up that vacant block of land and decide to build a property on it, it's important to understand the fundamentals of a construction loan, especially the general advantages and disadvantages. Here is a quick list of the pros and cons of construction loans.
Pros
1. Reduced interest payments
Thanks to the progressive draw-down method of payment, you only incur interest on the amounts used to pay for the construction so far, as opposed to being charged interest on the full loan amount from day dot. This can result in lower interest costs overall, and should the worst happen and the construction gets abandoned, you don't pay interest on construction that never happens.
2. Interest-only payments at first
Many construction loans are also interest-only at first, which can also result in lower initial repayments. This is only temporary, however.
3. Protection from shoddy workmanship
Since payments are staged with construction loans, the quality of the works is assessed by the lender at each stage. If the quality of the work has been poor, they can identify this and save you from wasting thousands of dollars on a sub-par house.
4. Stamp duty can be cheaper
Stamp duty is something that most home buyers have to pay, but with a construction loan, stamp duty is only actually paid on the land, not the home itself. This can make it cheaper than buying an existing house – if you bought a block of land for $250,000 and spent another $300,000 building the house, you'd 'only' pay stamp duty on the $250,000 for the initial land purchase.
Cons
1. Constructing a property can be risky
Building a new property from scratch can obviously attract risks that buying an existing one simply doesn't. For one, you can quite easily go over-budget for a number of reasons during construction, and construction can be delayed due to weather. Furthermore, the final product might not be worth what you thought it would be, or even what the lender thought it would be.
2. Higher rates and fees
As mentioned before, construction loans often come with higher interest rates and costlier fees, which is why you need to look around for a good value construction loan.
3. Higher loan-to-value ratios
Construction loans can also require lower LVRs (loan-to-value ratios), which means you may need extra cash or equity to stump up a higher deposit.
4. They can be sloooooow
Not only can it be time-consuming to begin construction thanks to the mountain of paperwork you have to provide, but the draw-down progressive payment style of construction loans means it can take ages to move from one stage to the next since each one typically needs lender approval.
Can you just use a home loan for a construction?
You can use a 'standard' home loan to construct a new property – you just might need to have an existing home loan or two already.
You can use the equity in an existing home loan to borrow the amount you need to fund the construction of the new property, whether that equity is from an owner-occupied property or an investment one.
This method can beneficial for paying construction costs when they fall due and other smaller costs that pop up, but can be more expensive since you're paying interest on the entire loan from day one instead of in various stages.
How to you get a construction loan?
Applying for a construction loan is different from applying for a home loan. While most lenders who offer home loans also offer construction loans, it's not quite as simple as the home loan application process (if you can even call that simple!).
Building home loan requirements
In addition to the usual documents needed for a home loan application (proof of ID, proof of income & employment, lists of assets, liabilities and expenses etc.), your chosen lender will also require the following:
Council plans and permits
Proof you've purchased the land
A contract with a licensed builder (if you're building the home yourself you must specify this)
Completed building plans
Proof of builder's insurance
Not everything is included in the construction. If you require additional work done for things like swimming pools, sheds or garden beds then you'd also need to provide quotes for these upfront. The more qualified the builder and the architects who do up your blueprints, the better that will look to the lender as well.
Once they have all this, the lender might send someone out to value the land and give an approximate valuation of the soon-to-be-completed home. Once they receive this valuation, the lender may then give you the authority to proceed by approving you for a loan. Once this is the done the usual process follows: you'll need to make a deposit on the property just like you would with a regular home loan.
Larger deposits go a long way to convince a lender of your trustworthiness, as does:
A stable income
A good to excellent credit rating
Low debt-income ratio
What happens when the construction period ends
Generally, when the construction period ends, the construction loan reverts to a standard home loan, which is confusingly referred to as an end loan sometimes. If you chose 'principal and interest' as your payments type, your repayments will now begin to pay down the principal of the loan, which will see your regular repayment amount increase significantly. This change can be quite shocking, so be prepared.
Low rate variable home loans
Provider
Ad rate
p.a.
Comp rate*
p.a.
Monthly
repayments
Base criteria of: a $400,000 loan amount, variable, principal and interest (P&I) home loans with an LVR (loan-to-value) ratio of at least 80%. If products listed have an LVR <80%, they will be clearly identified in the product name along with the specific LVR. The product and rate must be clearly published on the Product Provider's web site. Introductory rate products were not considered for selection. Monthly repayments were calculated based on the selected products' advertised rates, applied to a $400,000 loan with a 30-year loan term. Rates correct as at 12 August 2020. View disclaimer.
Savings.com.au's two cents
Constructing a new house represents a much greater challenge than buying an existing one, which is already hard enough. This is why you need to do a thorough comparison of construction loans based on their interest rates, fees and the loan your construction loan will eventually revert to.
But in addition to choosing the right construction loan, you also need to take care to find qualified builders, surveyors, architects and solicitors. Not only will this ensure everything goes smoothly, but the right people can improve your chances of getting a better interest rate and can ensure your property gets built properly.
---
Disclaimers
The entire market was not considered in selecting the above products. Rather, a cut-down portion of the market has been considered which includes retail products from at least the big four banks, the top 10 customer-owned institutions and Australia's larger non-banks:
The big four banks are: ANZ, CBA, NAB and Westpac
The top 10 customer-owned Institutions are the ten largest mutual banks, credit unions and building societies in Australia, ranked by assets under management in November 2019. They are (in descending order): Credit Union Australia, Newcastle Permanent, Heritage Bank, Peoples' Choice Credit Union, Teachers Mutual Bank, Greater Bank, IMB Bank, Beyond Bank, Bank Australia and P&N Bank.
The larger non-bank lenders are those who (in 2019) has more than $9 billion in Australian funded loans and advances. These groups are: Resimac, Pepper, Liberty and Firstmac.
Some providers' products may not be available in all states. To be considered, the product and rate must be clearly published on the product provider's web site.
In the interests of full disclosure, Savings.com.au and loans.com.au are part of the Firstmac Group. To read about how Savings.com.au manages potential conflicts of interest, along with how we get paid, please click through onto the web site links.
*The Comparison rate is based on a $150,000 loan over 25 years. Warning: this comparison rate is true only for this example and may not include all fees and charges. Different terms, fees or other loan amounts might result in a different comparison rate.
Latest Articles