According to Accenture's Afterpay Economic Impact Report 2020, the leading buy now, pay later (BNPL) platform charges up to seven times fewer fees compared to certain credit card users.
In total, the report found Afterpay saved users $110 million in credit card fees and charges in 2020.
Accenture's research - which was commissioned by Afterpay - said the average cost for Afterpay users making a purchase was 0.6% of the purchase price each time, whereas credit card users were charged 2.1% of each purchase.
This is after factoring in late fees, account keeping fees and interest expenses: Afterpay does not charge either of the latter two (most BNPL platforms don't), while it charges $10 for not meeting a repayment by the due date, and another $7 for each subsequent missed repayment (capped at 25% of the purchase).
Credit cards, on the other hand, charge an average interest rate of 17% p.a according to Commsec, and can carry annual fees between $20 and $750, and late payment fees up to $35.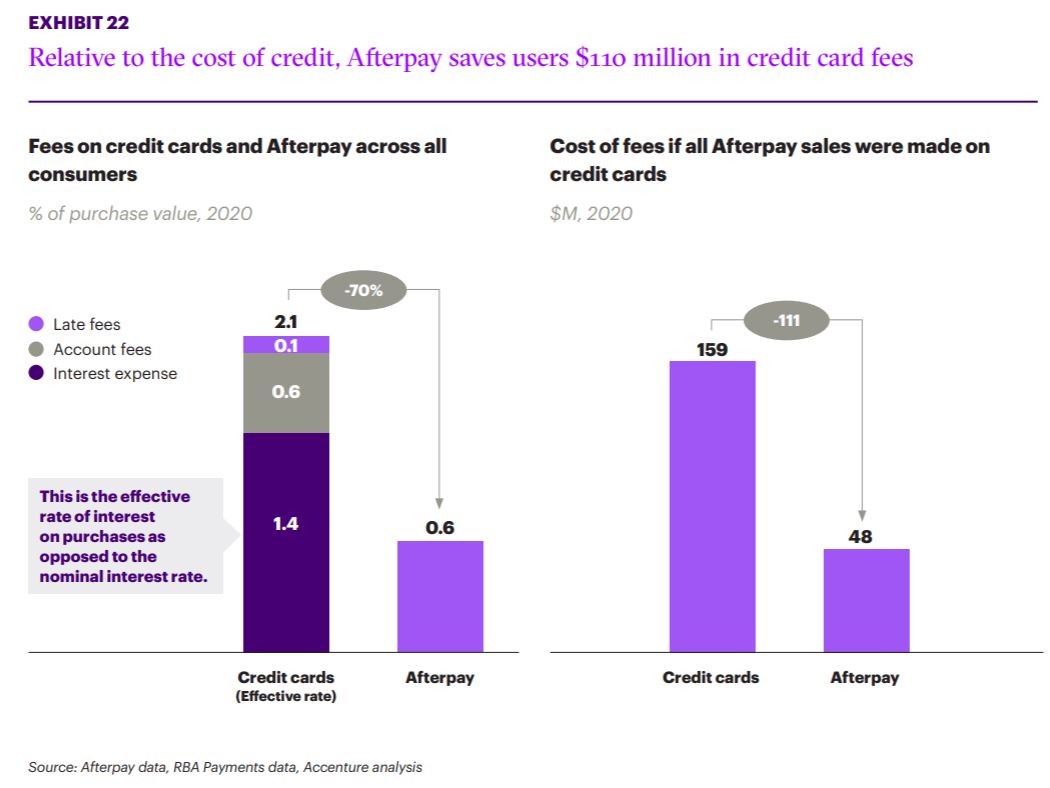 "Importantly, the benefits to Afterpay users from avoiding credit cards are greatest for the most vulnerable consumers," the report said.
"The highest late fee Afterpay users face is 25% of purchase price. In contrast, credit card users can face revolving debt costs up to 7 times higher, at 180% of their total purchase value.
"This reflects the underlying business model of traditional credit products, where users are incentivised to purchase beyond their capacity in order to generate larger fees over a longer period through ongoing revolving debt."
Of course BNPL is still not without its flaws: ASIC found one in five consumers are missing regular BNPL repayments, and around half of those are being charged late fees as well.
---
Below are some credit card products that have no annual fee.

Advertisement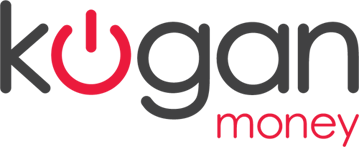 The Kogan Money
Black Card
0% p.a.
interest on Balance Transfersx for 12 months
Product Features
No Annual Fee
Bonus $300 Kogan.com Credit†
Complimentary Kogan First Membership‡
$135 million worth of 'benefits' generated
According to Accenture's report, Afterpay generated $135 million in 'consumer surplus' benefits in 2020, which is defined as "the difference between the price a consumer would have been willing to pay to access a product or service and the price they did pay."
These can be intangible benefits, such as the following:
A convenient alternative to credit (17%)

Access to a consumer marketplace (18%)

Spend tracking and budgeting support (28%)
Delayed settlements without interest (37%)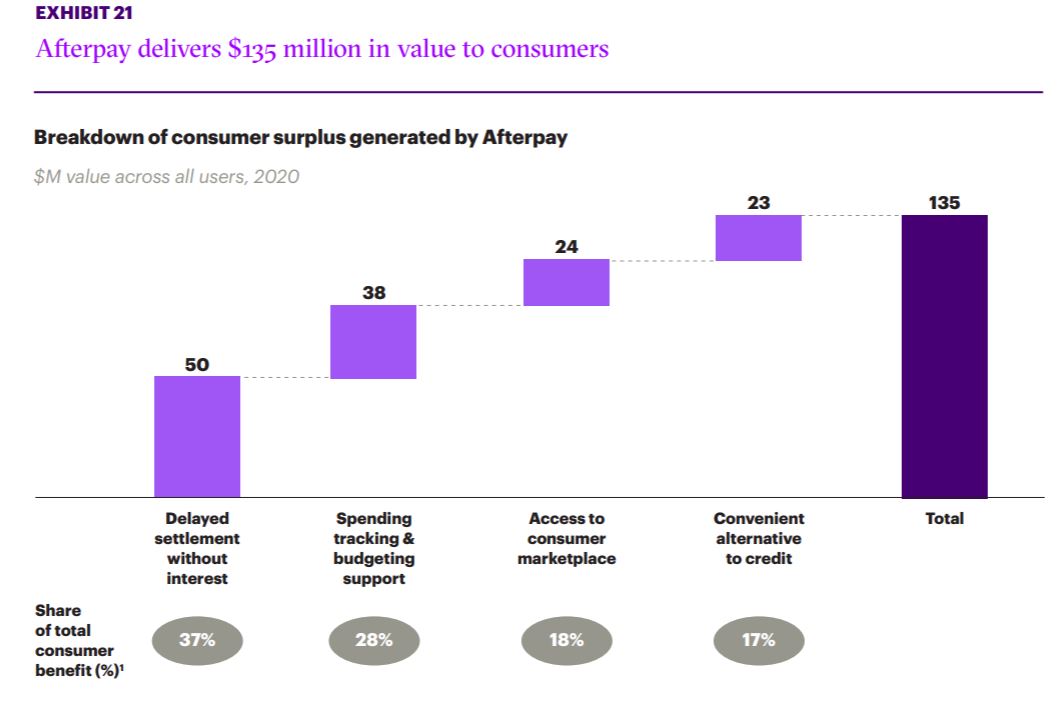 Nine in 10 customers also said the most important feature they considered when using Afterpay was how it helped them with budgeting, which supports a previous Afterpay study that said similar.
More than half (57%) meanwhile said they didn't like credit cards, and chose Afterpay instead, a trend that has been noticeable among younger generations in particular.
"A critical component of Afterpay's 'consumer surplus' value in 2020 is user reliance on the platform as a budgeting tool," the report said.
"The Afterpay user community reflects a strong desire for control over personal finances during periods of economic and social uncertainty, such as occurred in 2020, as well as a deep and growing aversion to revolving debt and traditional credit products."
The report also calculated Afterpay helped support 63,000 jobs through merchants in sales and other areas like logistics, advertising and research, and Accenture Managing Director Andrew Charlton said these figures demonstrate both consumers and merchants win by using Afterpay.
"For consumers, Afterpay offers the ability to budget and simplifies purchasing without the payment of interest and credit card fees," he said.
"For retailers and small business during the pandemic, Afterpay was an invaluable sales channel, allowing them to connect to internet-savvy, budget-conscious consumers while at the same time, growing their topline and improving operating efficiency."
Credit cards vs BNPL - who's using what?
Afterpay and Zip have more than 6 million customers between them, according to their latest half-year results, while another major player Humm also has around 2.5 million active customers.
There's been a recent influx of new BNPL platforms recently.
While 2019 and 2020 saw the arrival of smaller ones like Laybuy, Bundll, Klarna and others, 2021 has seen major bank Commonwealth Bank and payments platform PayPal also launch their own BNPL services.
Credit cards meanwhile didn't have a great 2020, with active accounts falling by 7% and balances accruing interest (debt) declining by 25%.
But despite the seemingly rapid rise of BNPL and the apparent decline of credit, there could still be a long way to go before the apprentice overtakes the master.
Payments expert Grant Halverson, former Citi and Diners Club executive, says an 'active' customer for a BNPL platform is simply someone who uses it once in 12 months, which makes them look more popular than they really are.
The Reserve Bank's data also shows BNPL is still below 1% of all retail payments.
"BNPL after seven years has 0.65% of retail payments and the debt is unregistered as it's below one basis point," Mr Halverson said.
"Debit has been growing double digits since 2009 - that's picking up consumer spend and debt is now split across a range of lending."
---
The table below features personal loans with some of the lowest interest rates on the market.
Lender

---

Fixed

Unsecured

N/A

More details

APPLY ONLINE

Low Rate Personal Loan Unsecured (Excellent Credit)

No ongoing or early exit fees
Flexible repayment options
Get quick decision. Funds in 24 hrs if approved

Variable

Unsecured

N/A

N/A

More details
Simplified Borrowing - 100% online process makes it easy to apply for a loan anytime, anywhere
Personalised Rates - Get a fair interest rate that's personalised to you
More than a loan - Behind the scenes is a friendly and dedicated team ready to answer your questions
Important Information and Comparison Rate Warning
Image source: Frinkiac