A survey of over 1,000 Australians by Citi found 94% of Australians enrol in at least one rewards scheme, with the average cardholder in 4.4 of them.
This implies nearly a third of all Australians don't use their rewards cards to their full potential.
This data supports a previous study a couple of years ago by Citi, which found 56% of Australians chose a credit card based on the rewards program offered, but 38% were dissatisfied with their current reward offering.
Meanwhile, another study earlier this year by ME found 37% of cardholders said their rewards cards provided them with no value, while another 20% of respondents said the most they got back from their cards was up to $50.
Citi Australia Head of Cards and Loans, Choong Yu Lum, said customers are looking to use credit card rewards to ease their holiday spending.
"Typically, we see customers building up their bank of points throughout the year and using them in October or November to purchase gift cards to pay for their family Christmas gifts," he said.
"In November 2019, Citi saw a 72% spike in customers cashing in their rewards points, compared to the previous month.
"Looking specifically at gift cards, we saw a 51% increase in redemption, indicating customers are likely getting ready to spend on Christmas shopping."
Citi's research found 53% of holders preferred to be rewarded with gift cards, despite gift cards and other retail products typically representing much worse value-for-points compared to things like flights.
Preferences for card rewards are also heavily driven by age and gender.
For example, younger people prefer to use their points to give gifts, with 20% of Gen Y and Z sating they use points to give a loved one "something special", compared to just 12% of Gen X and 7% of Baby Boomers.
The women surveyed preferred to redeem their points for smaller rewards, such as shopping items, whereas men saved up for "something big" or travel-related items.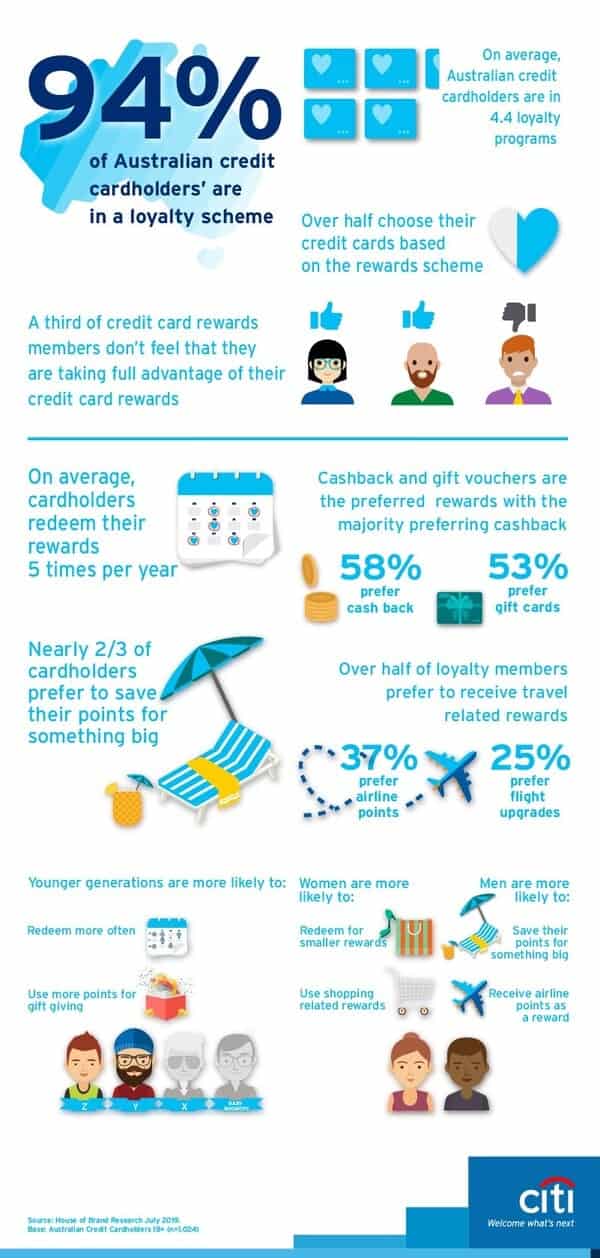 Source: Citi
Tips to get the most from your rewards cards
Despite the popularity of rewards credit cards, a large number of cardholders don't actually make a net gain from them.
An RBA paper published in 2018 found that only 40% of credit card users actually get a net positive value from their card, with high annual fees being the top reason for value being lost.
Annual fees on rewards and premium cards can be as high as $700, and unsuitable rewards cards can cost an average of $230.
"Consumers are getting savvier in terms of how they use their points, but with 1 in 3 Australians still uncertain they are getting full value, there are a number of tips they might find helpful," Mr Lum said.
Here are Mr Lum's top four tips to get the most from credit card rewards programs:
1. "Get a rewards card, and to the extent it makes sense for you financially, put your expenses through this card so you generate points."
2. "Use all your benefits. A lot of people take out their credit card for a joining offer, and then don't check out the ongoing benefits, which can be huge. Your rewards depend on your card, but it can be anything from free insurance, to airport lounge passes, to various cashback offers throughout the year."
3. "Define what value is for you. When you choose a card, find one where the value aligns with your spending pattern. For example, if you travel a lot, find a card that has better point's ratios for overseas spend. If you like dining out, find a card that has a 'foodie perk', like our offer of free wine when you dine at a partner restaurant'.
4. "Double dip. A lot of cards will give you a double dip option when it comes to earning points. For example, your card could have its own program and a tie in with another program like Qantas frequent flyer, Velocity or flybuys. If you can pay and earn across both programs, you might as well. Every dollar helps."